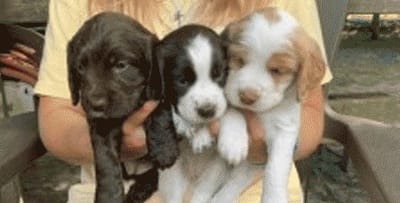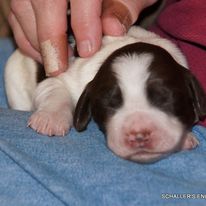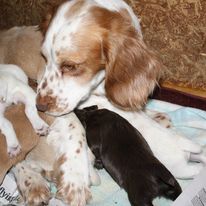 Cutter is 4 years old in January 2023. This will be her first litter. Cutter is from Jade and Boom. She weighs 23 pounds. Cutter was bred to Murphy, my grandson's dog, by artificial insemination, on January 24, 2023. Pups are due March 28 and to new homes at the end of May.

Dondi, my brother-in-law, has Gracie. She is 2 years old also from Jade and Boom. Gracie was bred to AFC Finley from Iron Mountain, MI on January 31st. Pups will be due about a week after Cutter's pups. Dondi's son's family of 6 is living with them till their house gets built. I will get Gracie when she is ready to deliver and raise the pups at my house.

I have 2 people with deposits for a male and a female.

If you have an interest in a pup, and would like to get on the waiting list for a future litter or if you have any questions please use the contact page to call or email us anytime.